MORIMOTO BROTHER'S RANT~
YEAH AND I'M RANTING AGAIN~!! I LEARNED HOW TO USE FOUL WORDS NOW~!!
Yeah~ so this is somewhat related to hsj right.. and somehow it is not..
Yeah so like I was watching that stupid cute song of shintaro and since I called it stupid I don't know the title.. don't blame me!! This is just a sudden ranting.. so.. if anyone would mind to say the title of the song he performed in SC I'm pleased to hear the title.. so then.. let the sharing start…
Okay this is not so good to be expected but this is the best I've got as of now…
Yeah look at that boy.. it was just like two years ago that I'm cursing him for being ryutaro's brother.. I won't deny it.. I hated shintaro for real before… I was really saying he got no right to be ryu-chan's brother.. well.. people I won't mind if all of you will be mad at me for acting and being like that.. we have different ways of looking at people… so before.. when I saw taiga in 'love letter' performance.. it was in SC… yes that was the time I saw taiga and I concluded that he was ryutaro's *coughsistercough* brother.. so I was so happy since.. taiga really looks like Ryutaro and he's as handsome as he can be.. and people I ignored the REAL BROTHER… so then I was like looking over scans.. and then I spotted this picture.. I don't have my hard drive.. where the morimoto brother's are together and they are holding ice creams and such… I was shocked that it wasn't the boy I saw in SC but rather another one with that~ that~ that~ well it's unexplainable… then since then I started to hate shintaro.. yeah I apologize deeply for that.. of course my mind softened and I started to say.. yeah shin do looks like Ryutaro somehow.. is some can't tell them apart.. well I can with just a look.. I know who is Ryutaro and who is shintaro.. so then.. more time pass by and NOW LOOK AT HIM~!!! HE'S LIKE DOLL LIKE HIS ONIICHAN AND~!! AND~!! PEOPLE I'M GOING TO SAY IT…. I LIKE SHINTARO NOW~! I DON'T HATE HIM ANYMORE…~!!!
I don't have the right to curse Shintaro right now.. he's just freaking good looking like his oniichan! Are you asking me why suddenly this insane lady is cursing a very innocent boy by the name Shintaro?
I'll give you all the reason why the freaking hell I want to kick shintaro right now!!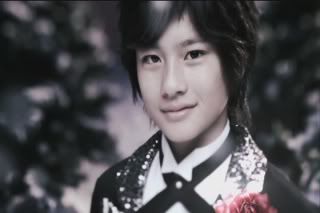 I think we're all too familiar about this already! This is a shot from Shintaro's god-damn good and wonderful pv! I'm sorry if I'm very foul mouthed it's because I held it in too much! Once more thing my laptop kept on collapsing! Maybe fainting after I placed this pv in! okay! Can someone tell me? Did he get a some sort of a fairy godmother and transformed him from weeds to roses? You find it confusing.. I did mention earlier that I find shintaro UGLY before! But now why the heck he needed to be this beautiful! I don't intend to steal Chinen's title.. but Shintaro fits more to have the title CINDERELLA BOY! I know! It's just so weird to steal something good from someone good.. but it's fine as long as you are really awed to something! I'm actually regretting right now that I thought buying the debut release cd of snow prince gasshoudan is obviously not worth it.. but I'm in total regret! I FIND IT VERY WORTH IT! IF THE CONTENTS ARE SUCH CUTE KIDDO'S!! I'M POINTING TO CHINO AOI AND OTSUKA YUYA!! I'M NOW CLAIMING SHINTARO MINE AS WELL!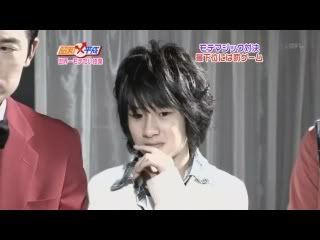 This is not really necessary to include but don't you just think.. *points shintaro's shot and points at this shot* that this will prove that they are really brother's! yeah! I didn't think it at first in others where they are together spreading love of RyuShi and in the backstage they are stabbing each others to death.. I mean I shared this before and ranted that RYUTARO IS FREAKING BEAUTIFUL IN HERE!! I wonder if I have fondness to this kind of effects making them look like dolls!! I mean the two of them look like dolls! I want to be a morimoto now! I want to be their oneesan! I want to give them marshies and plushies! I want to play hamster with them! I want them as my brothers! Because my brothers are too weird to play with! *me and my brothers play before with plastic tubes and wonder how we could kill each other using it, I always win because I'm taller and scarier but right now if I do play with them using it once more, you'll never ever hear or see me ranting again.. and I hope you are not wishing for it to happen*
Okay now, I will go and find ways to buy that single! I want that making!